What to Do When Your Jeans Don't Fit Anymore
This post may contain affiliate links.
Read my full disclosure
.
I wish it weren't true, but it happens to ALL of us. Your weight fluctuates. And some days, or months, your jeans just don't fit. Your jeans will be too tight, and they won't fit anymore. It sucks (I know!!), and it happens to the best of us.
What to Do When Your Jeans Don't Fit
So what should you do if your jeans don't fit anymore? Try one of these 5 solutions.
5 Quick and Easy Solutions for Times When Your Jeans Don't Fit
Hate it when your jeans are too tight? Here are 5 quick and easy solutions with what to do when your jeans don't fit.
1. Buy New Jeans If Your Jeans Don't Fit!
If your jeans don't fit, buy new jeans! I know. I know. NONE of us like to buy jeans in a bigger size. It feels like defeat. But understand that weight fluctuation is normal. To save yourself stress, go out and buy yourself a new pair of jeans. It's no fun wearing jeans that are too tight.
My trick? When I find of pair of jeans that I like, I buy three pairs total. Yes – I buy the same pair of jeans in three sizes! Not kidding. That way, I ALWAYS have a pair that fits comfortably.
I have a smaller waist and muscular thighs and personally LOVE the Anne Taylor high rise, curvy skinny jeans. I own them in a size 0, 2, and 4! My favorite is the Jet Black Wash color. (Make sure to select "curvy" as the fit type versus "regular" when buying online.)
Here's a picture from my beauty/makeup Instagram account (Very Easy Makeup) in the high-rise, curvy skinny jeans.
https://www.instagram.com/p/B84_4yYBWgr/?utm_source=ig_web_copy_link
2. Lose Weight If Your Jeans Are Too Tight
You knew this would be a tip, right? If your jeans are too tight, you may have gained weight. I personally gain fat on my thighs and butt, so if I eat more calories per day than usual and stop workout out as often, the scale goes up and the jeans don't fit.
To make your jeans fit again, get back on the fitness train and lose weight.
PS – Want tips on how to lose weight? Check out this article on Pure Barre (it's a GREAT workout for toning your butt and thighs) and THIS article on how I lost 5 pounds in 3 months.
3. Change Your Wardrobe – Say Goodbye Jeans and Hello Tights!
Most of my wardrobe in the summertime consists of tennis skirts and sundresses. In the fall and winter, I stick to tights. Even for work, I stick to dresses with tights underneath – because work pants, like jeans, can quickly become too tight.
So go ahead and start wearing tights! Pair tights with a cozy sweater or loose shirt for a casual look, or a bigger, loose collared shirt for a dressier look.
I personally own the Calvin Klein Mandarin Collar Zip Roll-Up Sleeve Top and these black tights from 90 Degree by Reflex on Amazon.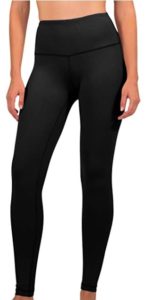 Here's a picture of me in the Calvin Klein top. You can be dressy in tights with the right shirt! Add a scarf and you will be looking glam!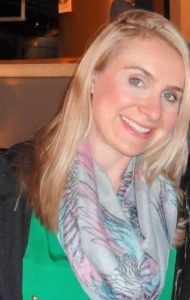 4. Prevent Bloating If Jeans Are Too Tight Around the Waist
Bloating can SIGNIFICANTLY affect how your jeans fit. To make your jeans fit better, avoid foods that cause bloating. Avoid beans, sugar free gum, foods with fake sugar, wheat, and foods with high salt.
To prevent bloating, eat healthy foods like strawberries, bananas, cucumbers, oranges, apples, and yogurt (but not yogurt with fake sugar!).
5. Target Key Areas Wear Jeans Can Be Tight – Like Thighs and Butt
Targeting key areas can help your jeans fit better. Thanks to Pure Barre, I've never been so toned and fit in my life!
Check out these articles to get into Pure Barre.
PS – Many Pure Barre studios are doing Zoom classes during Coronavirus and offering recordings of their classes on Google Drive or Facebook. My Pure Barre studio in Inman Park is doing this, and I LOVE how I'm able to continue working out during these crazy times!
Thanks for Checking Out This Article By The Jeans Fit!!!
Thanks so much for checking out this article. I'm passionate about fitness, health, and working out, and I started The Jeans Fit as a fitness and health blog for women.
I'd love to hear from you. Please leave a comment below and check out The Jeans Fit on Facebook and on The Jeans Fit on YouTube too.
Lots of love!
Chrissy from The Jeans Fit
(This article may include affiliate links. View my disclosure here.)