5 Leggings Like Lululemon at Less than Half the Price Online
This post may contain affiliate links.
Read my full disclosure
.
Affordable Legging Brands!
I wear leggings at least five days a week, as I'm a big fan of Pure Barre. But it's hard to find a good pair of leggings!
So many of leggings aren't very stretchy, feel too tight, or are outrageously expensive.
If you are like me, you want to find leggings like Lululemon.
Paying $80-100 for a pair of tights just seems ridiculous to me. I know that many women love Lululemon leggings, but there are great alternatives out there!
Affordable Leggings Like Lululemon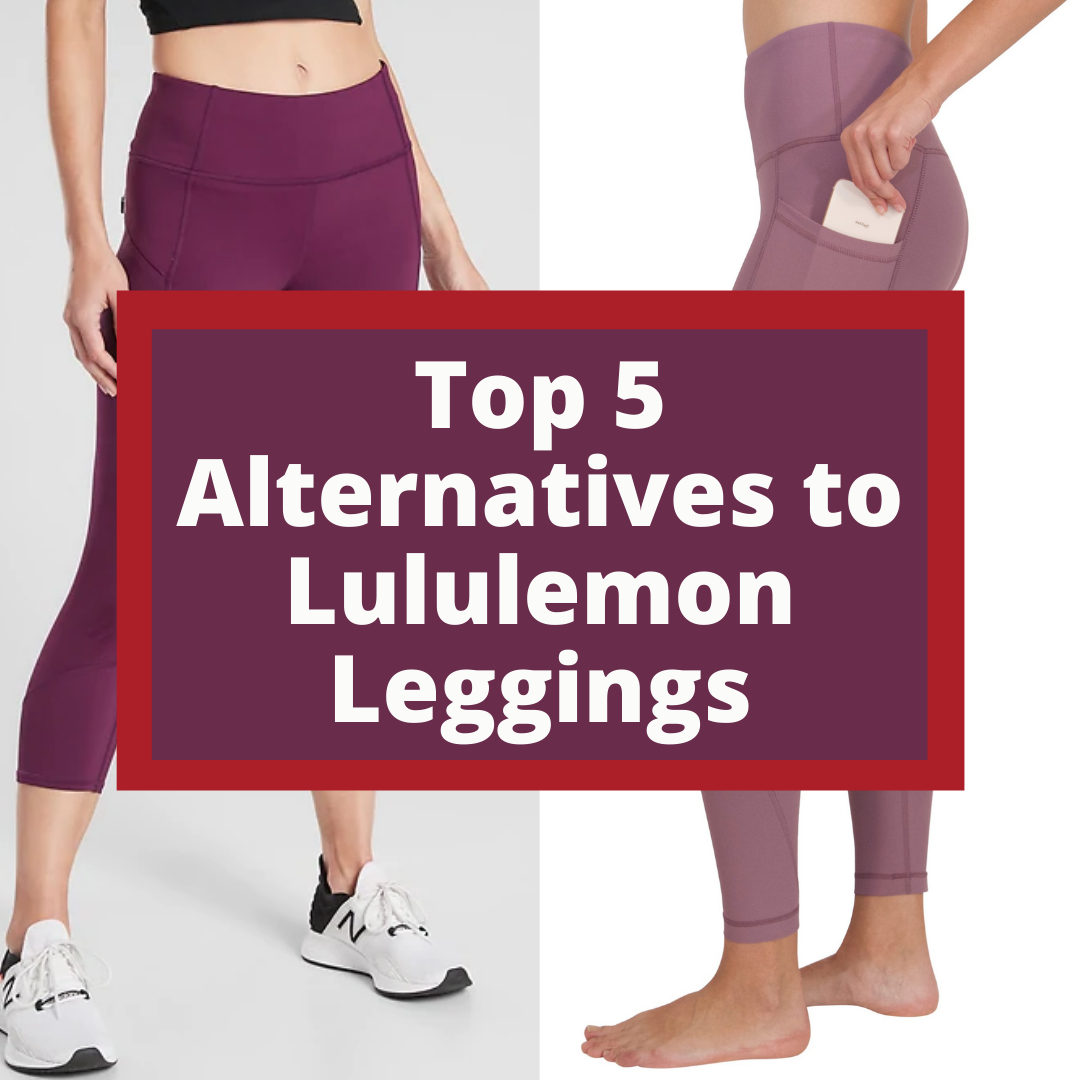 Before you buy your next pair of Lululemon leggings, it's worth to giving other women's leggings brands a try.
5 GREAT Leggings Like Lululemon at Half the Price Online
Continue reading to discover five affordable leggings like Lululemon (Fabletics included!) that won't cost you $98-$118, which is the typical Lululemon leggings price.
These alternatives to Lululemon leggings are better than Lululemon leggings in my opinion!
1. 90 Degree by Reflex
I absolutely love, love, love the leggings by 90 Degree. 90 Degree leggings are my favorite legging brand and are leggings like Lululemon.
90 Degree leggings like Lululemon are GREAT quality, have a high waist, and come in different colors and sizes.
The 90 Degree leggings are perfect for athletic women with a skinny waist. I love how the leggings come up right below the belly button and are tight around the waist. No need to adjust these leggings by continuously pulling them up!
These leggings are stretchy and comfortable, and encourage me to suck in my stomach during my Pure Barre class.
I love the 7/8 length leggings with pockets. They are perfect for running (cell phone in one pocket, credit card in another, and keys in small pocket in the front).
Best Size to Wear in 90 Degree by Reflex Leggings
When I was at 145 pounds I wore a size medium.
When I was at 140 pounds, I wore a size small. A medium worked well too, it just didn't feel as tight.
Now, I'm at 135 pounds and prefer to wear an x-small. A small fits really well too. I prefer the x-small, as I have a thin waist.
I personally own the ankle length leggings in Coral Berry and Fig Berry. TJ Maxx also has amazing 90 Degree leggings right now with pockets!
Where to buy 90 degree leggings: Amazon, TJ Maxx, or the 90 Degree website
Cost of 90 degree leggings: $15-$30, depending on where you go
Top ranked leggings by 90 Degree
I'd highly recommend ordering the High Waist Ankle Length Leggings. For only $25, it's hard to go wrong. Plus, I love the beautiful purple, red, and pink colors of the 90 Degree tights.
Tip for buying 90 degree leggings online – choose the right material: Be very careful when buying 90 degree leggings online. They have two different styles of fabric! The 90 Degree by Reflex leggings have two different material styles. DON'T buy the ones with 87% nylon and 13% spandex. They seem cheap and the material shows panty lines. Buy the leggings that are 76% polyster and 24% spandex. Learn more here (scroll down to #5).
Alternative to 90 Degree Leggings: The Yogalicious high waist leggings are similar to 90 degree, and also sold at TJ Maxx and Amazon. I prefer the 90 degree leggings ever so slightly, as the stitching is slightly better.
2. Yogalicious High Waist Leggings
The Yogalicious leggings are just like Lululemon leggings.
They are buttery soft, super stretchy, and comfortable.
Women say the Yogalicious leggings are just like like Lululemon align leggings.
3. Zella
Try the Zella Live In High Waist Legging as a Lululemon dupe.
Women love the Zella high waist leggings. Zella is a popular athletic brand at Nordstrom that focuses on leggings and jogger pants, but also sells performance jackets, maternity tank tops, and seamless t-shirts.
If you are a size 4 at Lululemon I'd recommend an XS in Zella. If you are size 6 at Lulumon I'd recommend a size small at Zella.
Women's Lululemon dupe leggings tip: If you are looking for an alternative to the Wunder Unders by Lululemon, the Live In Leggings from Zella will be your best option.
4. Colorfulkoala
After 90 Degree, the Colorfulkoala leggings is my favorite pick as an alternative to Lululemon leggings. I purchased the High Waisted Yoga Pants in 7/8 length with pockets in rose red, but ended up returning them. I didn't like the material.
Where to buy: Amazon or the Colorfulkoala website
Cost: $25-$30, depending on where you shop
Top ranked leggings by Colorfulkoala
High Waisted Yoga Pants in 7/8 length with pockets
High Waisted Yoga Pants in full length with hidden waistband pocket
High Waisted Yoga pants in Capri length with pockets
More Leggings Brands to Check Out
These athletic brands don't necessarily sell leggings like Lululemon, but they sell super cute leggings and are a great alternative to Lululemon to check out!
1. Fabletics
Fabletics by Kate Hudson has the cutest patterns for leggings.
You have to be a member of Fabletics to order, but it may be worth checking out. Fabletics often has introductory offers for super cheap leggings, and then it increases to $49.95 per month.
Where to buy: Online from Fabletics
Cost: $49.95 per month
Top selling legging styles by Fabletics
PowerHold leggings: available in mid-rise or high-waisted; the 7/8 Power Hold High Waist is a favorite of my close friend
Seamless leggings: available in high-waisted and mid-rise styles
Trinity leggings: available in multiple styles with pockets
For a great online review of Fabletics, check out The ULTIMATE Guide to Fabletics Leggings by Anna Reilly.
I personally haven't given Fabletics a try, as I didn't want to go through the effort of creating a membership. I also don't like the idea of being obligated to buy pants monthly.
2. Athleta
I don't know what it is about Lululemon, but I feel somewhat intimidated shopping at their stores. In contrast, I feel comfortable and "welcomed" at an Athleta store.
I personally love the joggers and street wear pants by Athleta, such as the Athleta Stellar Tight. Athleta offers some solid tights too.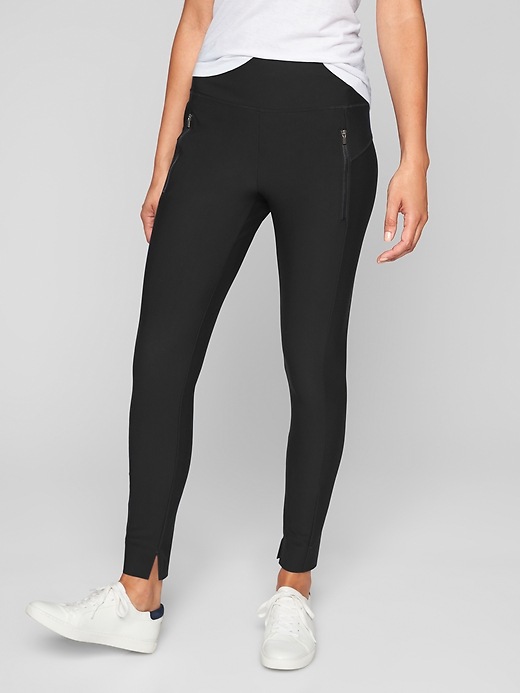 The Athleta legging options online can be overwhelming, so I'd recommend giving the Ultra High Rise Elation Tight a try to begin.
Top ranked legging styles from Athleta
Elation tights with Powervita fabric Solid starter pair, but the waist can roll down sometimes.
Salutation tights with Powervita fabric for yoga pants
Contenders for running and compression. I love this pair of contender tights in black or the Mesh Contender Capri in Powerlift.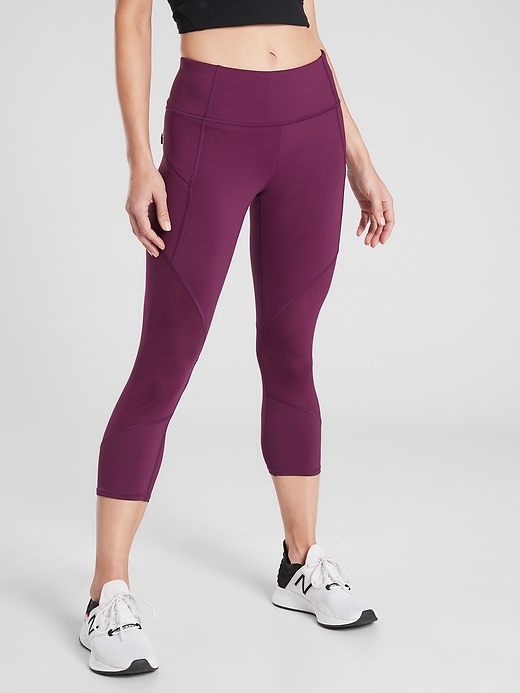 My sister loves the Athleta tights. For me, the waistband on the Athleta tights can be a bit too big, and the material isn't as stretchy as I'd like.
Feeling Adventurous to Try More Leggings Brands?
Below are a few other brands to explore. All recommended by my female friends.
Happy shopping for new athleisure clothes!
-Chrissy from the Jeans Fit (offering fitness tips for women and reviews of top athletic clothes)