Running for Beginners – The 10 Best Running Essentials and Apparel (Including the Best Running Shorts with a Phone Pocket!)
This post may contain affiliate links.
Read my full disclosure
.
Have you recently started running?
Are you looking for the best women's running apparel?
Or do you simply want to expand your closet with the best women's running clothes?
Look no further if you are looking for the top running essentials for women.
Running Gear Guide
This must have running gear guide covers:
The best running gear for 2020
Affordable women's running apparel on Amazon
This post may contain affiliate links. Read my affiliate disclosure here.
The Top 10 Running Apparel for Beginners and the Best Women's Running Apparel on Amazon
1. Solid Running Socks and Running Shoes
The Best Running Socks on Amazon
The best running socks for beginners are the BERING women's running socks and athletic socks by Puma.
BERING Women's Athletic Running Socks: https://amzn.to/2zLtj5v
What I love about the BERING running socks:
Lots of cushion
Breathable
Arch support
Puma Athletic Socks: https://amzn.to/2XOfNFW
What I love about the Puma running socks:
Pretty colors (pink and purple logo color)
Hold up well in the washing machine
Offer cushioning in the heel and toe
Have mesh top ventilation
Offer moisture control
The Best Running Shoe for Women
I love the Mizuno Women's Wave Runner. It beats out Nike in my book.
Mizuno Women's Wave Rider Waveknit Running Shoe: https://amzn.to/2XpKAtM
Here's why the Mizuno Waveknit Running Shoe Rocks for Beginner Runners:
Well cushioned
Great for those with high arches and narrow feet
Great for shorter 3-mile runs and longer runs
Comes in pretty colors
Comfortable from the get-go
Other shoes to consider: Check out The Top Cushioned Running Shoes for Pavement
2. Running Shorts with Pockets and Leggings with Pockets for Beginner Runners
Running Shorts
The Baleaf running shorts have pockets and are high waisted, so they won't fall down when running. The Baleaf running shorts also come in longer lengths (8" and 5"), which are perfect if you have muscular thighs and want to prevent chaffing.
Baleaf Running Shorts: https://amzn.to/36TRaMc
Luxury Running Shorts (Women's Running Apparel Brand)
Other shorts to consider: anything by Lululemon. They are expensive, but their shorts are the only ones I've found that are both flattering and great for running.
Shop Lululemon here: Lululemon running shorts
Leggings with Pockets (for Beginner Runners and Advanced Runners!)
90 Degree Leggings: https://amzn.to/2U6D8BP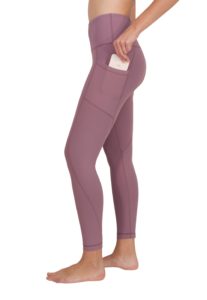 I convinced my friend to move away from Lululemon leggings to the leggings by 90 Degree!
Top reasons to love 90 degree leggings:
Pretty colors
Pockets (one for phone and phone for credit card)
Inner pocket for keys
High waist
Perfect for athletic build
Be careful when buying online. You want the style that is 76% polyester and 24% spandex. Don't buy the wrong version online! Learn more in this article: https://thejeansfit.com/affordable-leggings-alternatives-to-lululemon/
3. Headphones for Music and a Good Running App
Headphones
Music helps me stay motivated to keep on running.
I used to love the Philips headphones (they come in pink!) when I had an Android.
Philips Headphones in Pink: https://amzn.to/2U5i1jk
Now that I own an iPhone I SWEAR by the Airpods. They are expensive, but TOTALLY worth it.
Learn more why I finally caved in and bought Airpods: https://thejeansfit.com/airpods-working-out-review/
The Best Headphones for Running: Airpods: https://amzn.to/3eJlNGR
A Running App (Perfect for Motivating Beginner Runners)
A good running app can keep you motivated.
I use Runkeeper and my friend Danielle uses the Nike running app. Both offer free versions and are good.
4. High Impact Sports Bra for Running
Running Sports Bra
Champion Sports Bra: https://amzn.to/2XqcBl4
My friend and I go running together, and I told her I had written an article about my favorite sports bra. She then pulled out her favorite sports bra, and she had the same one! The Champion sports bra is seriously the best.
Whether you are a beginner runner or an advanced runner – you need a good sports bra!
Full review of the Champion sports bra: https://thejeansfit.com/champion-sports-bra-running/
5. Tank Top and Long-Sleeved Shirt (Running Apparel Essentials)
Tank Top for Running
Racerback Tank Top: https://amzn.to/2XV0JGT
Most workout tank tops are more or less the same. I found this tank top on Amazon for less than $15.
Long-sleeved Shirt for Running
Reebok Running T-Shirt: https://amzn.to/3ctA8G3
A light-weight, long-sleeve running t-shirt is essential to protecting your shoulders and back from the sun. I own the Reebok shirt in a side small.
6. Sunblock for Running Outside
Neutrogena Beach Defense in SPF 50: https://amzn.to/2U9mZf4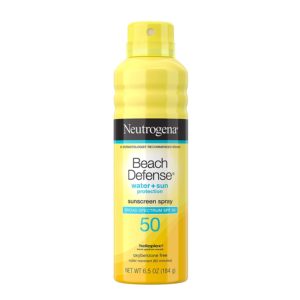 I prefer a spray sunscreen because it's easier to apply. The Neutrogena sunscreen smells great and isn't greasy.
7. Visor for Running
Visor for Running
Adidas Visor: https://amzn.to/2XsugZc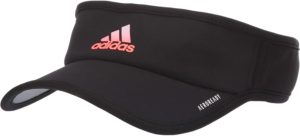 I used to wear hats when running, and then I discovered visors. The Adidas visor is more attractive than the Nike visor (in my opinion) and stays on. I own the visor in pink and white. I threw the white one in the washing machine and it survived, so this is a well-made visor!
8. Anti-Chafe Balm to Prevent Chaffing While Running
Body Glide for Her: https://amzn.to/2XtLeqg
If your thighs touch you NEED an anti-chafe balm. Even when I was super skinny in high school I used it! Rub this on your inner thighs before your run and you won't get chaffing.
9. Sporty Sunglasses – A Must Have Running Accessory
Tifosi Sunglasses: https://amzn.to/304wwI7
Tifosi and Goodr and the top selling running sunglasses. I tried on both at a running shoe store, and the Tifosi sunglasses are definitely the better of the two. They won't slide around when running and come in fun colors.
10. Moleskin for Feet – Essential for People Who Run a Lot
Dr. Scholl's Moleskin: https://amzn.to/3gLB8bU
If you get blisters or calluses on your feet (like me!) then you need moleskin. Cut it out to be any size, and then apply it to your feet. Moleskin offers great protection, especially for your longer runs.
What's Your Go-To Running Gear?
Have a favorite running gadget or running outfit that you love?
I'd love to hear from you! Write a comment below or send me a message via Instagram or Facebook.
Also check out the Pinterest page for The Jeans Fit, where I have an inspirational board for athletic outfits.
Welcome to the life of a runner!
Chrissy from the Jeans Fit (offering weight loss advice for women and fitness tips for the everyday woman)