The Best Sports Bra for Running and High-Impact Workouts
This post may contain affiliate links.
Read my full disclosure
.
An awesome sports bra on Amazon!
I've been wearing sports bras for decades…literally (I did cross-country in middle school). I've tried sports bras from Champion, Under Armour, Athleta, and Nike. Unfortunately, many sports bras are either too tight around the rib-cage for me, see-through (your nipples show!), or come with annoying pads that come out in the washing machine.
My All-Time Favorite Sports Bra for Running: The Champion Women's T-Back Sport Bra
Over the past five years, I've bought the same sports bra by Champion for running and for my high-impact workouts. And the best thing of all? The sports bra is only $30 and it's online at Amazon. Below are 7 reasons I love the Champion sports bra for running.
7 Reasons I Love the Champion Sports Bra from Amazon for Running
1. Washing Machine Friendly Sports Bra
I'm lazy. I'm not careful with laundry. I've tossed the Champion sports bra into the washing machine on extra-hot and then tossed it into the dry on hot. The bra holds up. No worries about hand-washing this sports bra!
2. Priced Right on Amazon
Many high-impact sports bras are $40+. You may find a low-impact sports bra or a medium-support workout bra for $30, but most high impact sports bras demand a higher price. For only $30, the Champion running bra fits my budget.
3. No Funky Zippers, Buckles, or Straps on this Sports Bra
I don't want to deal with zippers on my sports bras. They rub against my skin and look funny. (I guess it's easier if you want to get down and dirty in the bedroom?) The Champion sports bra is simple and easy to put on and take off.
4. No Pads in the Champion Sports Bra
I love Athleta, but I personally HATE how their sports bras have pads on the inside. (I hate swimsuits that have this too!) I appreciate that the pads prevent my nipples from showing through, but the pads often fall out in the washing machine, or move around and look awkward.
If you don't mind sports bras with removable padding, Running Girl sells a cheap (under $20!) medium-support yoga bra on Amazon.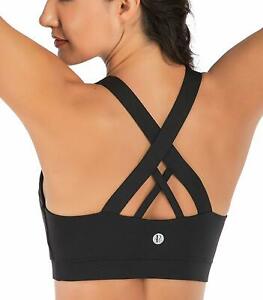 5. Not See Through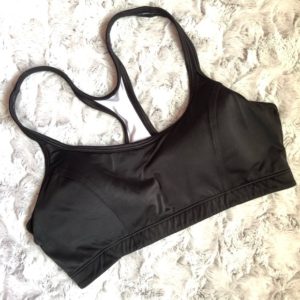 Many women wear sports bras that are somewhat see-through, but that's not for me. I want to be able to wear a thin tank top over my running bra and not worry about my nipples showing. The Champion sports bra is thick enough that you'll never have to worry about the ladies showing.
6. Right Size around the Chest
I have a large rib-cage, which means I need a 36 inch band. The Champion sports bra doesn't come in a LOT of sizes, but it comes in band sizes 32, 34, and 36 and in cup sizes A, B, and C. The Champion running bra isn't a great sports bra if you have larger boobs, but is great is you are more "standard" in size.
7. High Support – High Impact Sports Bra
The whole point of a running bra is to have a sports bra that holds up to high-impact workouts. The Champion sports bra is perfect for running. You don't have to worry about jiggling, if you know what I mean. =)
8. The Running Bra Holds Up
I work out every day, and I rotate my wardrobe between 3-4 Champion sports bras. I usually only need to buy new bras every 3 years, so these bras really hold up!
4 Reasons the Champion Sports Bra May NOT Be For You
I love the Champion sports bra, but it's not perfect. Here's a few things you may not like.
1. It's a Boring Sports Bra
I have to admit, the Champion sports bra is boring. It doesn't come in cute patterns or colors like the sports bras from Fabletics or Athleta.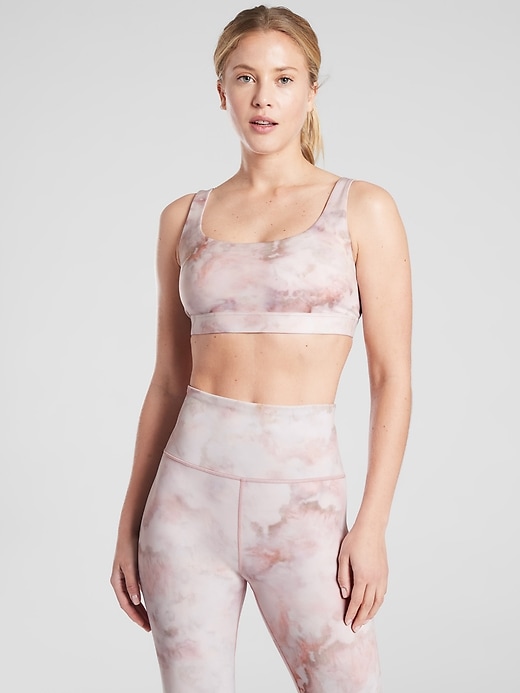 Amazon advertises the Champion sports bra in pink with yellow outline, but I've actually never seen it in stock.
2. Running Bra Only Comes in 3 Colors on Amazon
Related to the comment above, the Champion sports bra only comes in three colors: black, white, and gray. So if you want something more colorful, you'll need to look elsewhere.
I own an Under Armour cross back sports bra similar to the one below in medium, and love it.
3. Limited Sizes on Amazon
The Champion sports bra only comes in sizes 32A through 36C, so if you are outside of this size spectrum, you are out of luck.
Don't despair! Check out the Anita Active Sports Bra (sizes 36, 38, and 40 in A-E cup sizes), the Elomi Underwire Sports bra (bra cup sizes G, GG, H, HH, J, JJ, K, UK, E, and F), the Panache Underwire Sports Bra, or the Champion Spot Comfort Full-Support Sport Bra for high-impact sports bras in more sizes.
4. Stitching in the Front of the Sports Bra
There is stitching on the front of the Champion sports bra over the right and left side of your chest. This personally doesn't bother me, but the lines of the stitching will show through thin tank-tops.
What Champion Says About Its Sports Bra
Curious what Champion has to say about its high-impacts sports bra?
Here's what the Champion tag says:
High Support (for running)
Suggested sports: tennis, cycling, soccer
Certified for high support. Hugs and secures with high impact support to control bounce for cross-training comfort.
Straps: Stay-put straps.
Back / Closure: T-back design for ease of movement.
Band / Wire: Plush band for comfort.
Body: Seamed inner cups enhance curves and prevent show-through.
Body: DoubyDry technology helps keep you cool and dry.
Other information about the Champion high-impact bra:
Made in Hondorus
Material: 81% nylon, 19% spandex
Want to Find More Workout Gear?
Searching for more workout gear? Check out the fitness apparel I love, and like my Facebook page to get notified of new posts.
Happy running and shopping!
Chrissy from the Jeans Fit
(This post may contain affiliate links. Read my full disclosure here.)