5 Quick and Easy Lunches Under 400 Calories
This post may contain affiliate links.
Read my full disclosure
.
Quick and Easy Lunches Under 400 Calories
I don't go out to eat much, which means I eat most of my breakfasts, lunches, and dinners at home.
I'm also not a big fan of cooking and when I'm hungry I want to get food in my belly ASAP. I keep my meals simple and have a healthy lunch each day.
In-search of quick and easy lunches under 400 calories? Continue reading for healthy and low-calorie lunch ideas under 400 calories.
5 Quick and Easy At-Home Healthy Lunch Ideas
Below are quick and easy at-home healthy lunch ideas. I promise you…you can make these lunches in under 10 minutes at home.
1. A Salmon Salad with Vinegar, Salsa, and Fruit
I love salmon and Omega-3 fatty acids in salmon are a health powerhouse. Omega-3s help fight depression and anxiety, improve eye health, and reduce the risk of heart disease.
Kroger and Trader Joe's both sell frozen, wild-caught salmon that I l love. Avoid farmed salmon. It's gross!
The salmon burgers from Trader Joe's can be cooked in the microwave in under 2-minutes, but I prefer to throw them on the frying pan for 3-5 minutes.
Kroger also sells Wild Alaskan whitefish burgers by World Foods. The World Foods whitefish burgers are also high in protein and only 150 calories each.
How to Keep a Salmon Salad for Lunch Under 400 Calories
After you cook your salmon burger, add it to a large salad.
To keep your meal under 400 calories, use a low-calorie dressing. I like to mix balsamic vinegar with mustard for a calorie-free dressing.
Then I add salsa and/or olives to my salad to add flavor and texture.
Finish your lunch off with a crunchy apple or strawberries, and you'll have a quick and easy healthy lunch that took you 5-minutes or less to make at home.
2. Peanut Butter and Banana Sandwich – Oh So Satisfying and Quick for Lunch
Peanut butter and jelly sandwiches were amazing as a kid. As an adult, you can enhance this basic sandwich by swapping in a banana for the jelly.
Tips for a Quick Peanut Butter Sandwich Lunch Under 400 Calories
To keep your lunch healthy and under 400 calories, use 2-tablespoons of peanut butter, one banana, and one slice of whole grain bread.
Two tablespoons of peanut butter has 7 grams of protein, magnesium, zinc, and vitamin B-6.
Bananas are high in potassium and great for sore muscles, and whole grain bread adds fiber and healthy carbohydrates to your diet.
Choosing the Right Peanut Butter for a Healthy Lunch
There are so many BAD peanut butters in stores now. Avoid any and all peanut butters that have anything other than "peanut butter" in the ingredients list. Jiffy is absolutely horrible, with sugar, hydrogenated vegetables oils, and mono and diglycerides added (whatever that is!).
My favorite peanut butter is good-old Smucker's peanut butter. It is natural with two simple ingredients: peanuts and salt. I like the crunchy peanut butter, but most people prefer the creamy kind.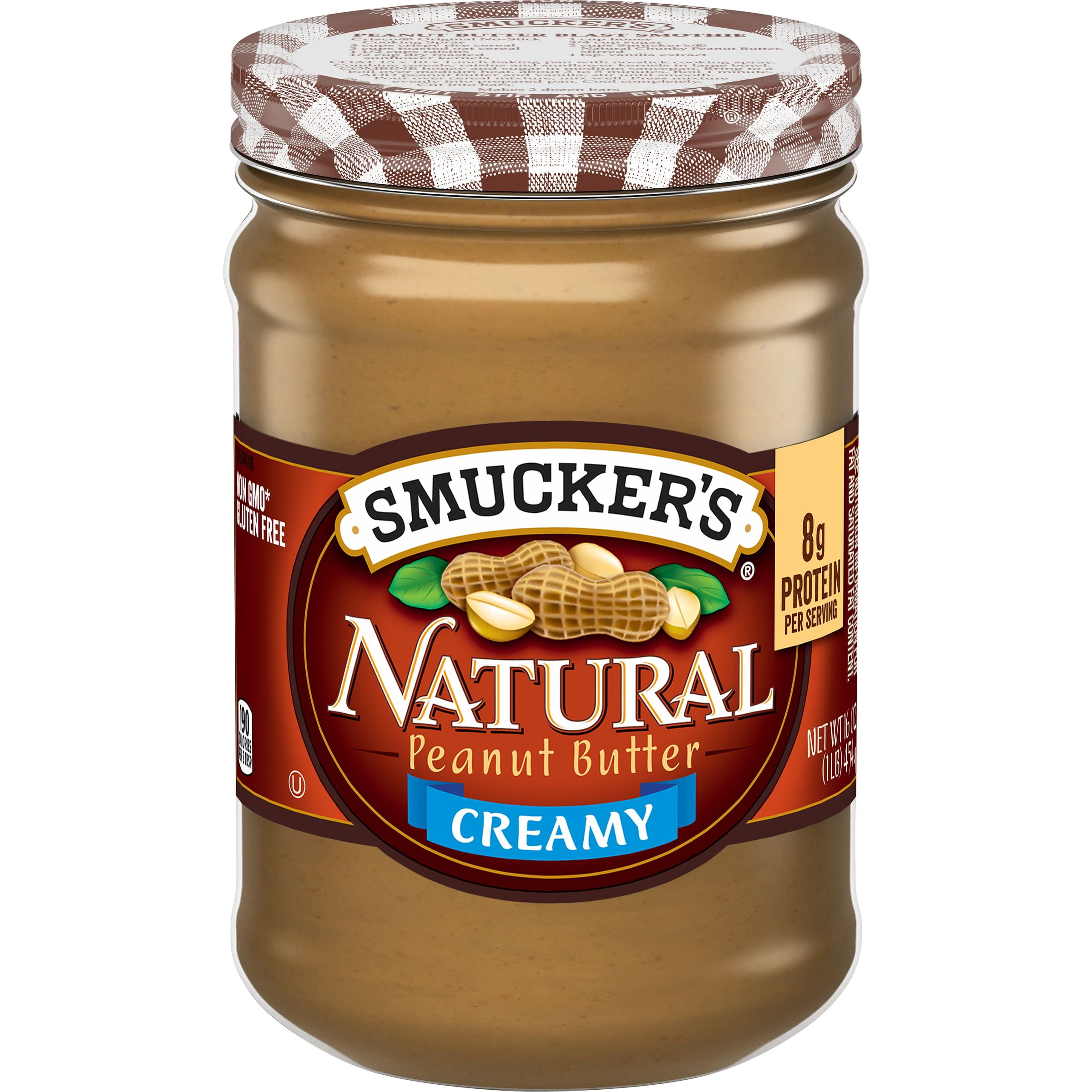 Hate bananas? If you are not a fan of bananas, try a peanut butter and greens sandwich instead.
3. A Delicious Fruit Shake with Protein Powder Added – Under 400 Calories and Healthy
Fruit shakes don't usually fill me up, but if you are looking for a light and tasty lunch, a fruit shake is a great choice.
Buy a great blender (I like the simple Oster 12-speed blender) and use the right ingredients, and you'll never need to go to Smoothie King or Jamba Juice again.
Ingredients for an At-Home Healthy and Under 400 Calorie Smoothie Lunch
Banana
1% milk
1-cup frozen strawberries or blueberries
1 scoop of protein powder
½ cup water
Add the ingredients in a blender, grind for 30 seconds, and voilà – you have your quick and healthy lunch!
At-Home Smoothie Making Tip – Always Use a Banana: I'm a big fan of bananas for smoothies. It is a MUST in any and all smoothies. Bananas add the perfect amount of sugar, and they make the smoothies creamy and delicious. A shake without a banana will just not taste right.
Best Protein Powder for Shakes: My favorite protein powder is the Trader Joe's soy vanilla protein powder. (Don't pick up their pea protein powder by accident! It looks the same.) It is high in protein and doesn't have any fake sugars added. Whole Foods also has great protein powders.
When buying a protein powder, I'd strongly recommend you read ALL of the ingredients. Most protein powders and diet foods have fake sugars, which can cause bloating and cancer, and mess up your food cravings. Common fake sugars include: sucralose (Splenda), erythritol (Stevia), and aspartame (Equal and NutraSweet),
Alternatives to Milk for Shakes: If you don't like milk, swap the milk for soy milk, yogurt, or another alternative. I also love using the Atkins Dietary Supplement Shakes to add a creamy texture. They are delicious. Only problem is that the Atkins shakes have Sucralose, which is a fake sugar (see comment above).
4. Frozen Lunch Meals by Amy's Kitchen – Ready in Under 4 Minutes
Want to keep your kitchen absolutely clean during lunch time, and do no prep, cooking, or blending at all?
Try a healthy microwavable meal for a quick and healthy lunch. I'm not a fan of most microwavable meals because they have added sugars, added ingredients that I don't recognize, high saturated fat, and lots of carbohydrates instead of healthy vegetables and lean meat. BUT, I've found some microwavable meals that I love.
At-Home Lunch: Amy's Organic Brown Rice and Vegetables Bowl
The Amy's Brown Rice & Vegetables Bowl has 290 calories, 10 grams of fat, 5 grams of dietary fiber, 2 grams of sugar, and 9 grams of protein.
For a more filling lunch, I microwave frozen peas and add them to the Amy's meal. I sometimes add Sriracha sauce or pepper to add more flavor.
5. Frozen Lunch Meals by Healthy Choice
I'm impressed with the Healthy Choice NEW Power Bowls.
Healthy Choice has really stepped it up! (Way to go brand management team at ConAgra!) I love the Healthy Choice Bower Bowl with Spicy Black Bean & Chicken.
View Power Bowls from Amazon Fresh
With only 210 calories, no gluten, and no grains – this is a winner all around. A lunch for 200 calories doesn't fill me up, so I add this to a large salad and finish up my lunch with an apple to stay satisfied.
This is a great low-calorie and easy lunch with under 400 calories.
More At-Home Lunch Ideas and Quick Dinners
Check out these articles for more healthy lunch and dinner ideas. I also stumbled across this DIY blog, Homemade for Elle, by Andrea that has great ideas and recipes for living a healthier lifestyle.
Lots of love!
Chrissy from theJeansFit on Instagram and theJeansFit.com