The Lowest Calorie Desserts at Kaspa's
This post may contain affiliate links.
Read my full disclosure
.
Kaspa's is known for its delicious hot and cold desserts. Its massive menu includes ice-cream, gelato, yummy waffles and crepes, and enough milkshake, smoothie, and sundae options to meet any heart's desire.
If you are heading off to Kaspa's with your friends or family and want to choose a lower calorie dessert, consider order any one of these dessert options.
The Lowest Calorie Desserts at Kaspa's
Kasap's doesn't publish its nutritional information online, probably because they don't want you to know how many calories their delicious desserts pack! But if you want to keep your calorie count low, below are the safest options.
1. Hot Apple Crumble
The hot apple crumble is similar to a slice of apple pie. One slice of apple pie has about 300 calories, making the Hot Apple Crumble a good choice.
2. Choc Dipped Strawberries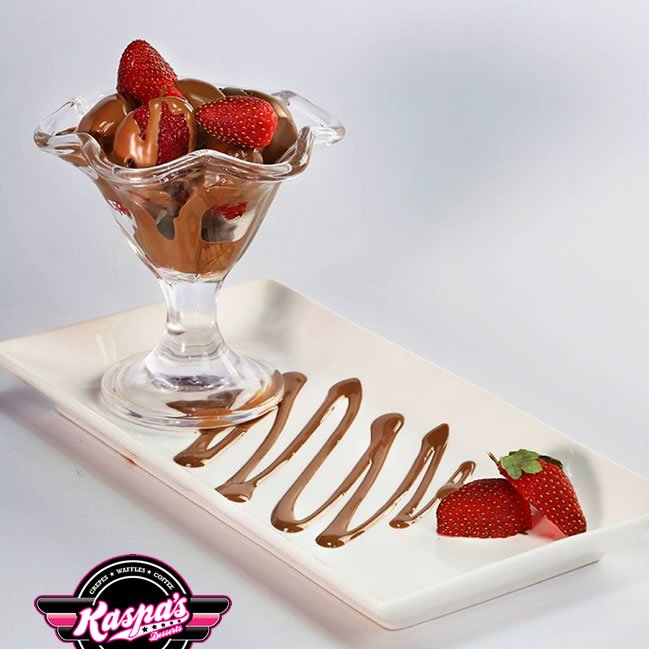 Who doesn't love chocolate dipped strawberries?! One chocolate dipped strawberry has about 60 to 80 calories in it. Limit yourself to five strawberries, and you'll get your chocolate fix without the excess calories.
3. Traditional Crepe – Sweet And Simple
There's something to be said for keeping things simple. The traditional crepe without ice-cream or lots of extra toppings is one of the lowest calorie desserts at Kaspa's.
4. Banoffee Crepe
If you really want chocolate and chocolate flakes on your dessert, go with the Bananaberry Crepe. You'll get your dose of chocolate, and the bananas and strawberry slices add minimal calories.
To significantly lower the calorie count, ask for the crepe without chocolate.
5. A Scoop of Gelato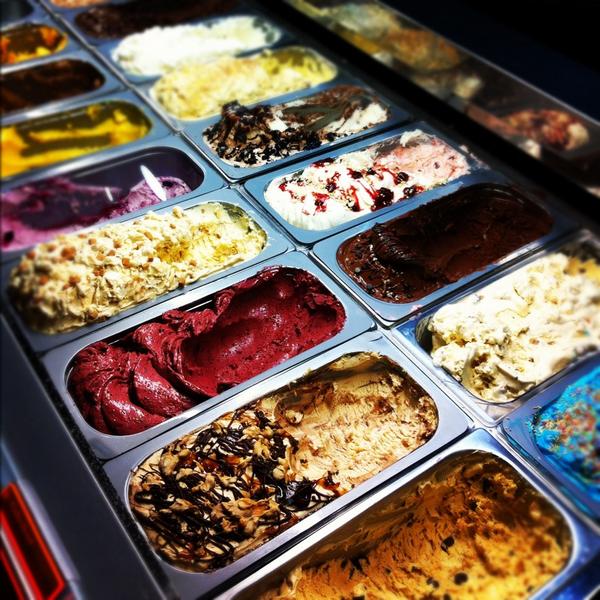 You can add a scoop (or two!) of gelato to any dessert for an extra 1.50 or 2.50. Ask a friend if you can add a scoop of gelato to whatever they order for dessert, and then enjoy your gelato in any flavor!
One scoop of Gelato will have about 200 to 300 calories.
The Lowest Calorie Sundaes at Kaspa's
Sundaes pack a lot of calories (they are huge!), but if you want a sundae for dessert choose one of these three options.
Because sundaes pack a LOT of calories, I'd recommend splitting a sundae with a friend. Plus, sharing is caring.
1. After Eight Minto Choc without Whipping Cream
Gelato has fewer calories that ice-cream, making the After Eight Mint Choc sundae a lower calorie dessert than the Classicbanana Split Sundae. Plus, it doesn't have a wafer basket like the Chocholic Sundae.
To lower the total calorie count, order the After Eight Mint Choc without the whipped cream and without the luxury mint syrup.
2. Mango Mania
Mango sorbet is relatively low in calories (it usually has zero fat, or very low fat content), making Magomania one of the lower calorie dessert options at Kaspa's.
Ask for it without the mango syrup to cut down on the sugar and total calories.
3. Fruit Sorbetto
The Fruit Sorbetto is one of the best options at Kaspa's. Sorbet has fewer calories than ice-cream or gelato, and the Fruit Sorbetto doesn't have the extra scoop of vanilla ice-crema like most of the sundaes at Krispa's.
Ask for the Fruit Sorbetto without the raspberry syrup and the whipping cream, and you'll lower your calorie count further.
Desserts to Avoid at Kaspa's If You Are Watching Calories
Milkshakes: If you are watching your calories, be wary of milkshakes. They can pack more calories than you imagine! One milkshake can easily have more than 1,500 calories. It's deceptive.
Waffles: A simple waffle can pack up to 700 calories.
Anything Pricier on the Menu: More money usually equals larger portions. If a dessert is more expensive, it's likely bigger and packs more calories.
And a Final Tip for Eating Dessert…
As a final tip, go ahead and order what you want!!
Order your favorite dessert at Kaspa's, and just split it three or four ways with friends.
If you are going to order a dessert, you might as well get what you want. Just limit the portion size. That's the best way to limit your calories.
Now go out and enjoy yourself!
Chrissy from The Jeans Fit
PS – Please show me some love! Follow me on Instagram, give me a like on Youtube, and follow The Jeans Fit on Facebook.