The 5 Best High Protein Snacks to Keep in Your Car
This post may contain affiliate links.
Read my full disclosure
.
If you are like me, you get HANGRY sometimes. And if you know me, you know that a HANGRY Chrissy is not a pleasant sight. To prevent this, I always keep snacks in my car in case I get hungry.
Plus, having a high protein snack in your car comes in handy in case your tennis runs late, if you are suddenly STARVING on the way home from work, or if you are out shopping and the food pangs suddenly hit.
Below are the best high-protein, healthy snacks to keep in your car. I always have healthy snacks in my car, and these are my top 5 snacks!
The Best High Protein (and Non-Perishable!) Snacks to Keep in Your Car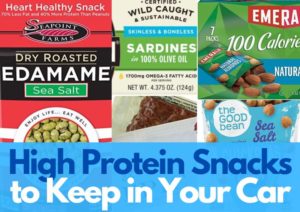 The Best High Protein Snacks that Keep Well In Cars
1. Edamame – a High Protein Snack with Fiber Too for Travel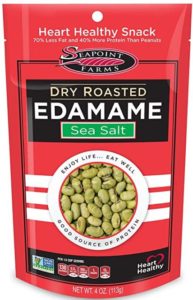 Edamame is an excellent, high protein snack. It's light-weight (so great to throw in your purse!), super high in fiber, and high in protein. Plus, dried edamame packs 10% of your daily iron and only 130 calories per serving.
I love the Wasabi protein (I love the flavor!), but most prefer the sea salt edamame.
Amazon sells edamame in both the small, single-serving packs, or in the larger packs (which is what I buy).
2. The Good Bean Chickpeas – Flavorful and Yummy!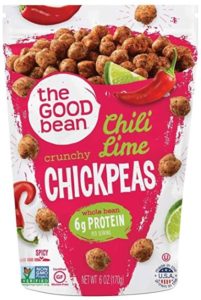 I don't know how I only discovered The Good Bean chickpeas last month – and that's because I found them at TJ Maxx! Fortunately, you can buy The Good Bean chickpeas online from Amazon or in stores like Publix.
My favorite flavor is the Chili Lime chickpeas. Just be sure the keep napkins in your car or hand wipes, as your fingers will get covered in spices!
3. EPIC Chicken or Bison Bars – Pure Protein and Deliciousness!
EPIC is really on to something. Their chicken sriracha bars are Keto friendly, high in protein (13 grams!), and gluten free. Plus, they have sriracha, and I love hot and spicy things!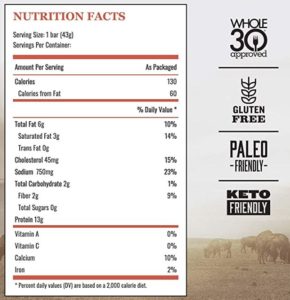 Buy EPIC protein bars on Amazon.com.
I used to be a fan of beef jerky, but beef jerky is high in sugar. EPIC bars have 0 grams of sugar, and taste absolutely DELICIOUS. Plus, they won't smell up your car (like a bag of opened beef jerky).
4. 100 Calorie Pack Almonds – Healthy and Great for Car Trips or Hiking Trips
I absolutely LOVE almonds and nuts (that's why I can't buy jars of peanut butter – I'll eat the whole thing!). Consequently, I love the proportioned, 100-calorie packs of the Emerald natural almonds.
I first discovered Emerald 100 calorie packs when my work offered them as a healthy snack option with only 100 calories and 4 grams of carbohydrates.
Pro Tip: If you put these packs in the freezer, the almonds taste even BETTER because they have an extra "bite" to them. A cold almond makes for a delicious and healthy summer treat when it's hot outside!
Buy 100 calorie packs of almonds for car trips on Amazon.com.
5. Sardines (YES – Sardines) – A High Protein, Super Nutritious Snack
Yes, you read this right. I keep a pack (or two) or sardines in my car.
Health Benefits of Sardines: Sardines have the healthy omega-3 fatty acids, zero carbs, zero sugar, and 13 grams of protein per serving (26 grams per container). Plus, the sardines I buy are packaged in pure olive oil. You can't get a healthier, high-protein snack!
Sardine Buying Tip: Always buy the boneless sardines. Otherwise they are kind of yucky. I buy the Season brand sardines in pure olive oil from Amazon.
Buy sardines in bulk from Amazon.com.
The 5 "Worst" Healthy Snacks to Keep In Your Car
1. Energy Bars – a "Healthy-Unhealthy" Snack to Keep in Your Car
Energy bars seem like a healthy snack, but they are usually filled with fake sugars and added ingredients.
When I gave up energy bars and swapped them out for nuts instead, I started to lose weight. Plus, the chocolate often melts in energy bars when left in the car and leaves a mess!
Alternative Snack for Traveling: Stick to 100 Calorie almond packs!
If you absolutely refuse to give up energy bars, stick to the KIND Energy Bars (my favorite is the Peanut Butter Dark Chocolate with 8 grams of protein) or RXBARs. They have the least amount of fake ingredients. Aloha Protein Bars are absolutely delicious, but they also have fake sugar.
2. Dried Fruit Like Raisins or Apricots – A Natural Snack, But You Can Do Better!
Dried fruit like raisins or apricots have natural sugars in them, but they aren't filling and often have added sugars and preservatives.
Instead, keep an apple (or two, or three!) in your car as a healthy snack. I'm always carrying a green apple with me.
Alternative Healthy Snack: Apples
3. Whole Grain Pretzels or Crackers – A Snack Lacking Nutrition and Protein
I read in an article that whole grain pretzels and crackers make for a great car snack. Who wrote that?! Pretzels and crackers (even whole grain ones!) are just high in carbohydrates and low in protein. Instead, stick to edamame, chickpeas, or broad beans in 100 calorie snack bags from Amazon.com.
Alternative High Protein Snack: Edamame or Chickpeas
4. Trail Mix – a High Protein, But High in Sugar and High Fat Snack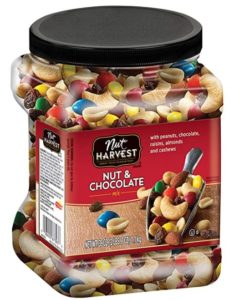 Trail mix is so, so deceptive. You may think it's healthy, but it's not! Trail mix usually has added sugars, added vegetable oil, chocolate, corn syrup, and lots of dried fruit (which is high in sugar). Additionally, trail mix is often relatively low in dietary fiber and protein.
Even the "healthy" trail mixes with no artificial ingredients had added sugars and only 2 grams of fiber.
Alternative Tasty Snack with Nuts: KIND Bars
If you crave chocolate and nuts, stick to the Peanut Butter Dark Chocolate KIND bars. Buy on Amazon.com.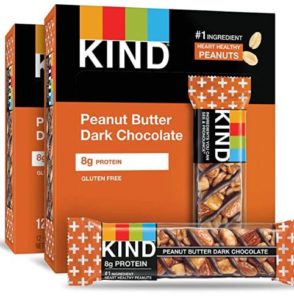 5. 100 Calorie Pretzel Packs, Goldfish, or Chips for Kids and Car Trips
I get it. You are a parent. You go to Costco, and there are the BIG bags of single-pack snacks with pretzels, goldfish, and chips for kids. You buy it, because it's convenient. (At least, this is what my sister does!)
Instead, why not feed your kids something that is tasty AND high in protein? The Jack Link's beef sticks are high in protein and a lightweight, easy to eat snack for small kids in the car.
Alternative Snack with Protein for Kids: Jack Link's Beef Sticks
Other Snacks (and Meals!) that Travel Well
1. Canned Split Pea Soup – Healthy Lunch Option for College Students (or to Keep at Work)
Back in college I didn't have much money, and I wanted to keep my lunches under $3 versus spending $10 to $15 in the cafeteria. I'd pack a can of the Progresso split pea soup every day in my backpack and a spoon, and had an affordable, health lunch with 18 grams of protein, 8 grams of fiber, and fewer than 400 calories.
Buy a pack of 12 cans of split pea soup (I like the one with ham or bacon flavor!) on Amazon.com.
2. Apples – Great Snack to Toss in Your Purse or Bag
I LOVE apples. I probably have 2-3 apples (or more!) a day. My favorite are the Granny Smith green apples and Pink Lady or Fuji apples.
3. Carrots – A Healthy Snack for Airplanes
Buy the bag of whole carrots (1-2 pounds) at the grocery store and peel and cut them into large slices. Carrots are delicious and healthy. I throw them into a plastic bag when traveling for a healthy snack on the airplane.
4. Cooked Turkey Burgers – High Protein Snack for Volleyball or Tennis Days Outside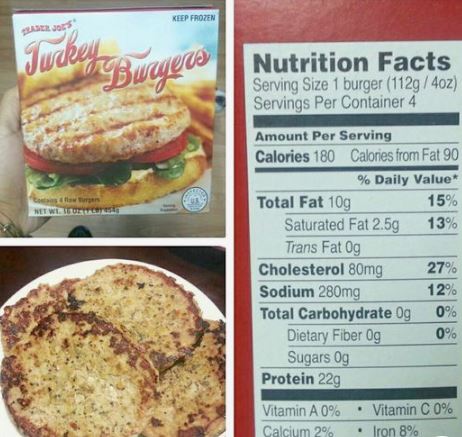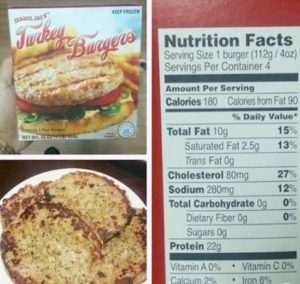 Trader Joe's sells THE BEST turkey burger. I cook one (or two!) up in the morning, put the turkey burger in a zip-lock bag, and then throw it in the freezer. Then, I take it with me when I have beach volleyball or tennis in the afternoon. It's a high protein, super delicious snack!
Check out more healthy foods at Trader Joe's in this YouTube video by The Jeans Fit:
Check out the most affordable, high-protein, diet-friendly snacks from Trader Joe's here.
5. Bananas – Easy to Digest Snack for Before or After Working Out
I love bananas. They are high in potassium, have natural sugar, and are great to have before (or after!) working out.
Discover More Healthy Snacks
Want to discover more healthy snacks and high-protein meals? Check out these articles by The Jeans Fit.
What Do You Pack In Your Car for Snacks?
What are your go-to snacks for long car rides, travel days, hiking, and days when you are on-the-go? I'd love to hear from you!
Happy Snacking!
Chrissy from The Jeans Fit (just a girl who is passionate about healthy eating, fitness, cute fitness clothes, tennis, and Pure Barre)