5 Low Calorie Starbucks Drinks to Enjoy Guilt Free
This post may contain affiliate links.
Read my full disclosure
.
Starbucks has lots of great coffee drinks (and non-caffeinated!) drinks to choose from, but what are the 10 best low calorie drinks at Starbucks?
Find out what the best low calorie drinks are to order at Starbucks if you are watching your calories.
Topics in this post by The Jeans Fit Include:
The Lowest Calorie Drink at Starbucks
Low Calorie Starbucks Drinks Under 100 Calories
Tasty Starbucks Drinks Under 200 Calories
Tips for Cutting Out Calories in Coffee Drinks
The Lowest Calorie Drinks at Starbucks (Under 100 and 200 Calories)
Here are the 5 lowest calorie drinks to choose at Starbucks.
1. Coffee or Americano – 5 to 15 Calories
A simple Starbucks coffee has 5 calories and a Starbucks Americano has about 15 calories (and more caffeine!).
Add some flavor by asking for a splash or low-fat milk or soy milk, which brings the total calorie count to around 50 calories.
2. Cappuccino – 140 Calories in a Grande
A grande cappuccino has 140 calories and a venti has 200 calories.
The foam makes this drink extra fun and tasty, and the calories are all coming from the high-protein milk.
To cut out more calories, ask for the drink with nonfat milk. This reduces the calories to 80 for a grande and 110 for a Venti.
3. Grande Latte – 190 Calories in a Grande
A latte is Starbucks coffee (expresso) with steamed milk and fun. It's a GREAT drink for fall or a cool night because it's foamy AND warm.
A grande caffé latte has 190 calories in it, which is from the healthy 2% milk that adds 13 grams of protein to the beverage.
To reduce your calorie count, ask for low-fat milk instead.
Skinny Lattes
You can also order one of the skinny lattes (hot or cold) at Starbucks, which has non-fat milk instead of 2% milk.
However, these drinks have fake sugar in them (due to the sugar-free flavored syrup used).
I personally try to avoid fake sugar at all costs, but if you are okay with it – you can order the Skinny Cinnamon Dolce Latte. This low calorie Starbucks drink has 130 calories in a Grande.
4. Flat White – 220 Calories for a Grande
The Starbucks grande Flat White has 220 calories and 12 grams of protein, thanks to the steamed 2% milk.
If you want a sweeter and creamier beverage, try the Starbucks Honey Almond Milk Flat White.
Starbucks Honey Almond Milk Flat White
This low calorie drink has the Starbucks Blonde Expresso roast, almond milk, and honey.
The honey and almond milk adds sugar to this drink, so you won't get much protein in this Starbucks low-calorie drink. This Starbucks beverage has 170 calories in a grande but only 3 grams of protein.
5. Hibiscus Starbucks Refresher – 70 Calories for a Grande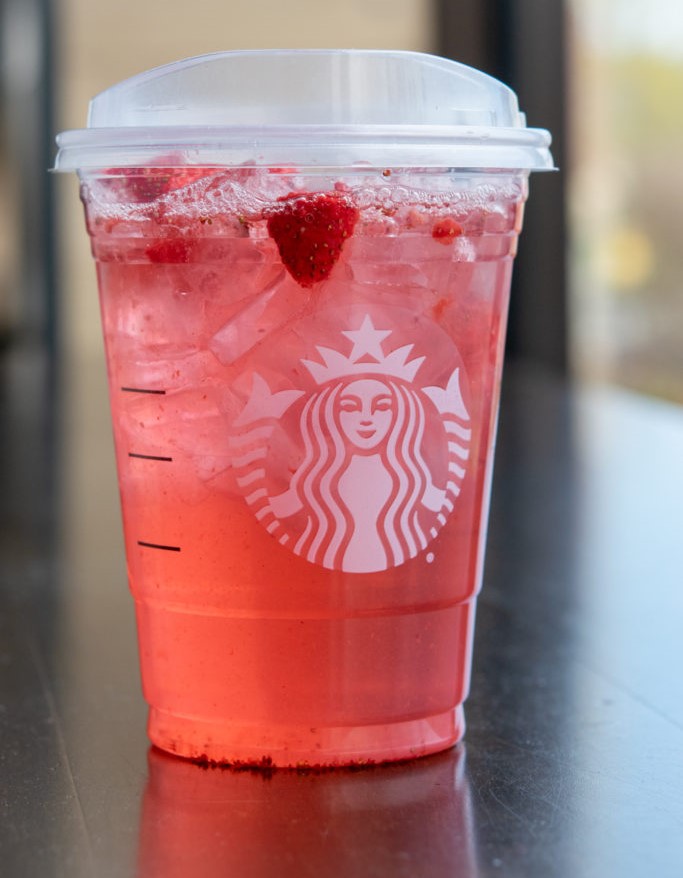 The Starbucks Refresher beverages have real fruit juice with fruit and tea.
The Very Berry Hibiscus Starbucks Refreshers Beverage has 70 calories in a grande and 90 calories in a venti.
Starbucks Calorie Information for Drinks Online
Want to view ALL calorie information for Starbucks drinks and nutritional information?
You can find this information online from the Starbucks menu.
View Calorie Information from Starbucks
Tips to Reduce Calories in Your Starbucks Drink
Wherever you go for a coffee or tasty beverage, follow these tips to reduce total calorie count.
1. Ask for No Sugar
Many coffee shops (like McDonald's and Dunkin') automatically add a LOT of sugar to coffee drinks. Ask for no sugar and then add your own sugar.
2. Swap Out Whole Milk for 2% or Low-Fat
Ask for your coffee drink with 2% or low-fat milk to save 20-50 calories.
3. Say No to Whipped Cream
Whipped cream can add 80-150 calories to a drink. Ask for no whipped cream in your Starbucks drink.
4. Get a Smaller Size
Go ahead and get the drink that you really want to have, just order it in a smaller size!
A venti Strawberry Frappuccino at Starbucks has 460 calories, but the Grande has 370.
5. Stick to Coffee Flavor vs. Chocolate or Mocha
Drinks with flavor tend to have added syrups and sugars.
For example, the Starbucks grande Mocha Frappuccino has 370 calories, but the Starbucks grande Coffee Frappuccino has 230 calories.
Conclusion
In conclusion, Starbucks has many low-calorie drinks under 100 calories. The lowest calorie Starbucks drinks include an Americano, a coffee, and a skinny latte.
More Articles by The Jeans Fit
Liked this article with the lowest calorie drinks at Starbucks? You may also like these articles by The Jeans Fit.
What to Do When You Are Feeling Blue
Connect with The Jeans Fit for More Tips to Stay Healthy
Please follow The Jeans Fit on Facebook and YouTube!
Chrissy from The Jeans Fit