The Lowest Calorie Food at McDonald's UK
This post may contain affiliate links.
Read my full disclosure
.
Whether you want a healthy lunch meal, a low-calorie breakfast, or a filling yet low-calorie burger, you CAN find healthy food options at McDonald's.
Read on my friends, to discover the lowest calorie foods to order off the menu at McDonald's in the UK.
The Lowest Calorie Food at McDonald's in the UK
1. Hamburger – 1053 kJ – 250 kcal
There's a lot to be said for sticking to the classics. With 100% beef, onions, pickles, and mustard – the simple McDonald's hamburger in the UK is a safe and low-calorie food item. You'll get 13 grams of fiber and just 1053 kJ (250 kcal) from the hamburger.
Ask for no ketchup to reduce your sugar intake and eat half the hamburger bun to further reduce your sugar and carb count for the day.
2. McChicken Sandwich – 1627 kJ – 388 kcal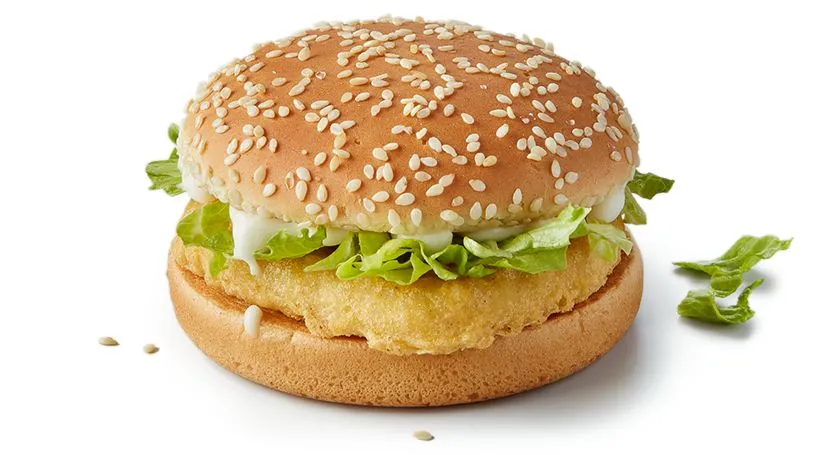 The McChicken Sandwich packs 16 grams of fat and 7 grams of sugar (not ideal), but it does have 17 grams of protein.
Ask for the sandwich without the sandwich sauce and have half of the sesame bun, and you'll have yourself a low-calorie meal for lunch.
3. Filet-o-Fish – 1379 kJ – 329 kcal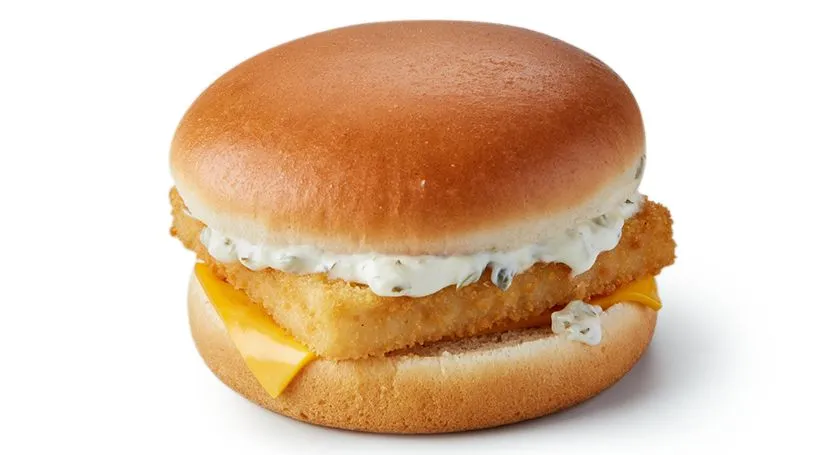 Who can say no to fried fish? With only 1379 kJ, the Filet-o-Fish is a low-calorie lunch sandwich at McDonald's.
To be super healthy, order it without the tartare sauce and throw out the bun. Just enjoy the fish patty!
4. Chicken McNuggets (9 pieces) – 1625 kJ – 388 kcal
With 100% chicken breast meat, 16 grams of protein, and less than 1 gram of sugar – you can't go wrong with the Chicken McNuggets at McDonald's. Order the chicken nuggets without ketchup or a sauce to cut down on excess sugar and salt.
The Lowest Calorie Breakfast Food at McDonald's UK
Egg & Cheese McMuffin – 1236kJ – 295kcal
The Egg & Cheese McMuffin is a healthy breakfast choice at McDonald's. With a free-range egg and one slice of cheese, you'll get 16 grams of protein to keep you full until lunchtime.
Avoid! The Cheesy Bacon Flatbread – 1246 kJ – 298 kcal
The Cheesy Bacon Flatbread only has 1246 kJ (298 kcal), but it's mostly fat (14 grams!), including lots of saturated fat (more than 35% of your daily reference intake).
The Egg White Delight McMuffin – A Healthy Breakfast Item if Available
The Egg White Delight McMuffin is a great low-calorie breakfast food, but McDonald's UK has a limited menu right now due to COVID  and is not currently selling the egg white muffin in its quick service restaurants.
Low-Calorie Salads and Meals at McDonald's UK
At the time of writing this article, McDonald's in the UK has a reduced menu due to COVID.
Once McDonald's expands it menu again in the UK, order the Southwest Salad with Grilled Chicken (350 calories and 37 grams of protein) or the Artisan Grilled Chicken Classic Sandwich (280 calories and 36 grams of protein) for a healthy meal.
Nutritional Info and Calories – McDonald's UK Menu
If you want to see the nutritional info for all sandwiches, hamburgers, and wraps, and drinks at McDonald's in the UK, check out this nutrition calculator.
McDonald's UK Nutrition and Calorie Info
Please Share the Love and Connect with The Jeans Fit!
Did you find this article helpful? Please give it 5 stars (see below!) and share this article with a friend via Facebook and/or Twitter.
I'd also love you (more than a Filet-o-Fish sandwich!) if you connect with me on social media. You'll be doing this gal who's trying to start her own fitness blog a big favor. Karma, right? 😊
Connect with The Jeans Fit on Instagram
Subscribe to The Jeans Fit YouTube channel
Like The Jeans Fit on Facebook
Have a delectable day!
Chrissy from The Jeans Fit