The Best Free Workout Plans On YouTube
This post may contain affiliate links.
Read my full disclosure
.
If you don't want to go to the gym, or if you want to save money, you can workout at home…for free!
Below are popular YouTube channels with FREE workout plans and videos you can do at home.
The Best Free Workout Plans Online and on YouTube
1. POPSUGAR Fitness – YouTube Channel with Workout Plans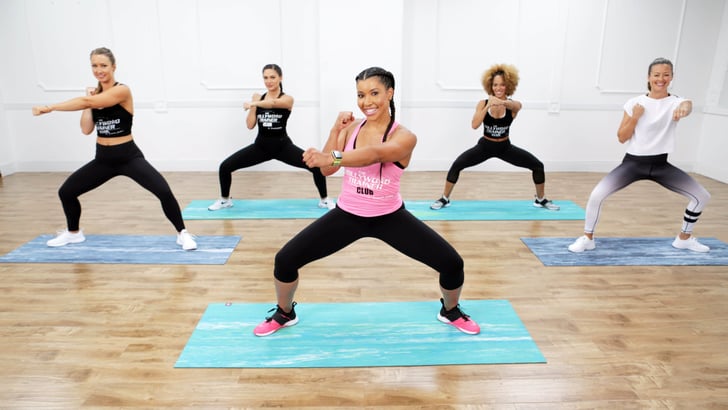 Whether you are in search lower-body workouts, core-focused workouts, fun dance classes, or strength-straining, POPSUGAR fitness likely has a free workout video that meets your heart's desire!
Most of the free workout videos are 25-30 minutes.
2. Tracy Anderson – Online Fitness Videos
A woman on my tennis team is SUPER fit and I asked her what she does to get her toned arms and legs. Her secret? She searches for "Tracy Anderson workout video" on Google and does her YouTube workout videos!
3. Chloe Ting – At-Home Simple Workouts
Chloe Ting has a YouTube channel with free weekly workouts, healthy food recipes, and other videos. Her workouts are super easy to follow and relatively slow-paced and calm.
4. Fitness Blender – At-Home Workout Plans and Exercises
Fitness Blender is run by a husband and wife team with free workout videos on YouTube.
I'll be honest. Fitness Blender is not a top choice of mine. There's no music in the workout videos and they seem a bit boring to me, but they do have over 500 workout videos to choose from!
5. Fit by Larie – Free 30 Min to 60 Min Total Body Workouts Online
Larie has a variety of free total body, barre, and yoga workouts to choose from.
More Options for Free Workouts Online
Sydney Torabj – Free Workouts on Instagram
Sydney Torabj has fitness inspirational photos online and short how-to workout videos on Instagram. Want to learn how to tighten your hips, strengthen your core, or sneak in a 10-minute core workout? She'll show you how.
FitOn – iPhone or Android App
FitOn offers free online workout classes with celebrity trainers like Gabriella Union and Christine Bullock.
Free workout videos? Yes. Really.
Workouts for Kids, Yoga Workouts, and More
If you want a whole LIST of free workouts you can do at home, check out this article by the New York Times.
Free Workout Videos from Your Library
If you have a library membership, check out the workout DVDs at your local library.
Whether you crave fun and dancing with Richard Simons, a dance video with Paula Abdul, a lean routine with Jane Fonda, or abs of steel (with Tamilee Webb), you may be surprised what your local library has.
My Recommendation – Do Pure Barre at Home!
My personal recommendation for an at-home workout? Pure Barre!
Pure Barre isn't free, but there are a free Pure Barre workout videos on YouTube that you can find.
Pure Barre also has classes on-demand for a monthly membership, and many studios (like mine!), are recording their in-class workouts and posting them online for members.
Please Share the Love and Connect with The Jeans Fit!
Did you find this article helpful? Please give it 5 stars (see below!) and share this article with a friend via Facebook and/or Twitter.
I'd also love you if you connect with me on social media. You'll be doing this gal who's trying to start her own health and fitness blog a big favor. Karma, right? 😊
Lots of love,
Chrissy from The Jeans Fit