ALTA Teams Looking for Players – 5 Tips on How to ACTUALLY Get on an ALTA Team
This post may contain affiliate links.
Read my full disclosure
.
ALTA Teams Looking for Players
I started playing tennis 3 years ago and LOVE my ALTA teams in Atlanta. ALTA is BIG in Atlanta and so is tennis. But if you are new to tennis it can be hard to find a team!
How do you find ALTA teams looking for players?
You can go to the ALTA website (altatennis.org) and post that you are looking for a team. It's through the ALTA Team Search page. But that's actually the wrong way to go about it.
How to Find ALTA Teams Looking for Players
Here are 5 tips to get on an ALTA team and how to find ALTA teams looking for players.
1. Sign Up for Drills.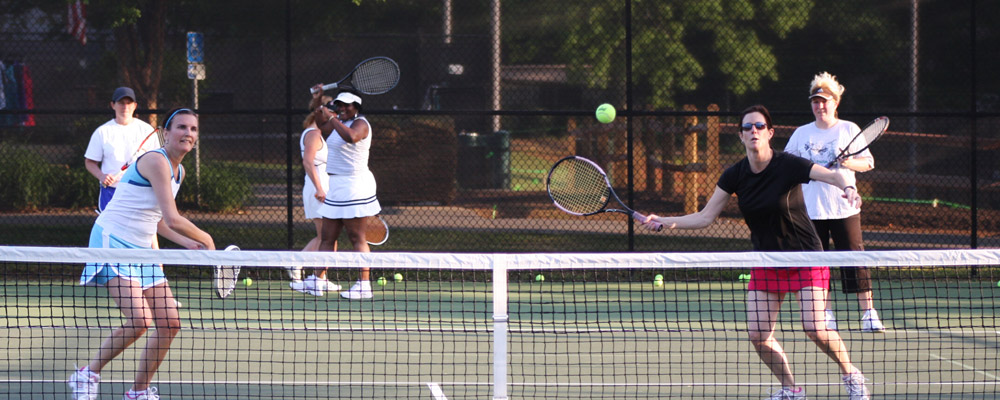 Dekalb Tennis Center (Agape), Blackburn Tennis Center, and Sharon Lester Tennis Center (at Piedmont Park) all have drills.
I personally love DeKalb Tennis Center. Go to the drills. Have a positive attitude and ask your new tennis friends if they are on an ALTA team that may be looking for players.
2. Call the Tennis Centers.
The way I joined my first ALTA tennis team was by calling the Bitsy Grant Tennis Center! Tell them your level and that you are looking for a team. They may know of an ALTA team.
3. Take Private Lessons and Ask a Coach.
Most ALTA teams practice weekly with a coach. The coaches may know of some teams.
Call one of the tennis centers (like Blackburn Tennis Center or DeKalb Tennis Center) to schedule a lesson with a coach. Or I know that Frank Thompson frequently offers beginner lessons too!
Teams post when they are looking for players.
5. Add Your Name to the Find Players and Teams page on the ALTA site.
This would be my LAST recommendation. It never worked for me, but it's worth a shot.
Find Player and Teams Page on ALTA Search Page
Tennis Accessories for Beginners
If you are new to tennis then welcome to an awesome sport! I didn't have much tennis gear when I started, but my collection has definitely grown!
Here are a few things you'll need so you don't look like a complete idiot when you hit the tennis courts.
1. Good Tennis Shoes.
Not running shoes. Not sneakers. Actually tennis shoes. Otherwise you'll roll your ankle, which is what happened to me in my first match! Popular brands are KSWISS, Asics, and Nike.
If you want to be classy, go with white tennis shoes.
2. Tennis Balls.
Tennis people are all into using fresh, new tennis balls EACH time they play. You'll need at least 6 cans to get started.
3. A Cute Tennis Outfit.
Skirts are a MUST for tennis. I personally love tennis skirts by Lija and Kyodan. There are also great Lululemon tennis skirt dupes online.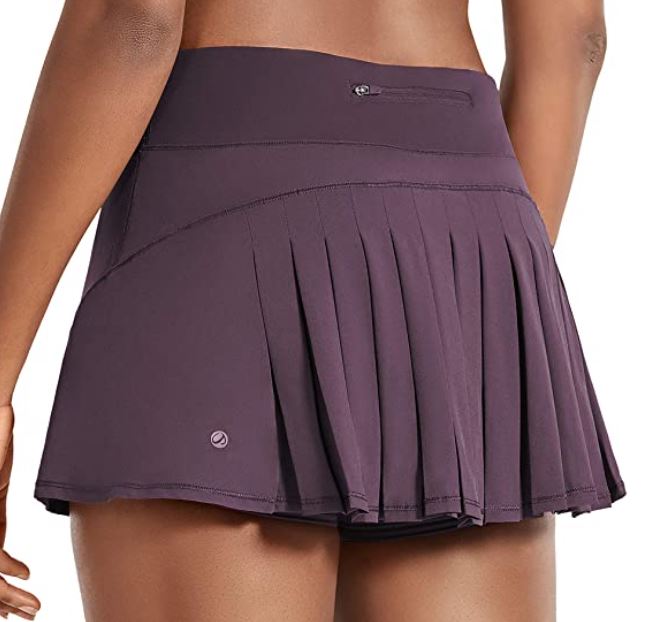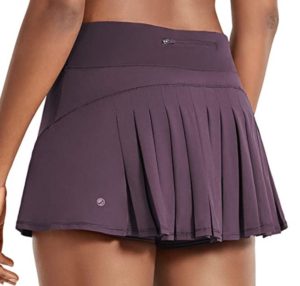 4. A Tennis Backpack.
The most popular brands for women's tennis bags are Ame & Lulu, Cinda B, and Hadaki. Other women just buy a generic, cute tennis backpack on Amazon.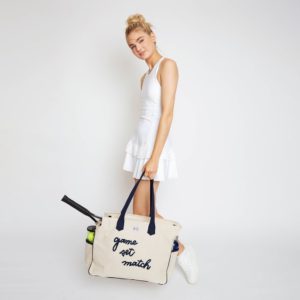 Cute Tennis Bags
5. A Simple Tank Top.
Nike is common on the tennis courts.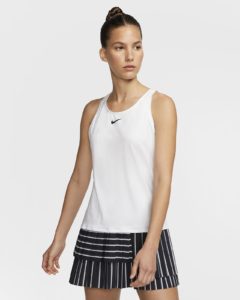 6. A GREAT visor.
Women in tennis don't wear hats. They wear visors! I own this Adidas visor in black, white, AND Pink.
7. Sunblock.
Because you'll need it in the Atlanta sun!
Connect with The Jeans Fit!
Please follow The Jeans Fit on Facebook and YouTube!
Chrissy from The Jeans Fit
Athletic Fashion for Women by Very Easy Makeup
Also, check out the sister blog for The Jeans Fit – Very Easy Makeup!
(This post may contain affiliate links. View the disclosure here.)