Where to Buy Pure Barre Sticky Socks
This post may contain affiliate links.
Read my full disclosure
.
Where to Buy Pure Barre Sticky Socks Online and In Stores
I started Pure Barre 3 years ago and am a big fan, but their sticky socks are so expensive! Below are the top 5 places to go to buy Pure Barre socks online and sticky socks for Pure Barre workouts.
Where to Buy Pure Barre Sticky Socks
1. From Your Local Pure Barre Studio
https://www.instagram.com/p/Bxuhs6vgCVP/?utm_source=ig_web_copy_link
After research online, I ultimately decided that buying sticky socks directly from my Pure Barre studio is the best place to buy sticky socks. Are they expensive? Yes. But they fit well, they last a long time, and they come in cute colors!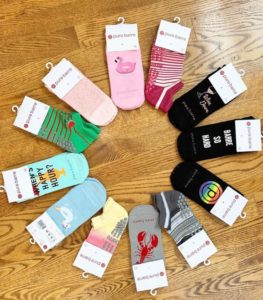 Yes – the socks cost around $15. But I'm supporting a local female business entrepreneur and her business. Plus, the Pure Barre socks are well made and pretty. I honestly think that Pure Barre socks from Pure Barre are the best quality.
And if you are already paying $100-$150 per month for Pure Barre, paying an extra $60 per year to buy yourself socks that you wear five times a week is totally work it.
Plus, sometimes local studios have sales on their socks.
https://www.instagram.com/p/B70vpIJp-29/?utm_source=ig_web_copy_link
2. Online from Poshmark or eBay
If you want a certain color of socks or a certain style, check out Poshmark and eBay. The socks (likely!) won't be any cheaper than Pure Barre socks that you'll find in your local studio, but you may have more variety.
3. Online from Amazon
The Muezna non slip yoga socks on Amazon get great reviews, and they look thick too!
You can buy a pack of 4 for $20, which is a pretty good deal! Buy them here.
4. At Your Local Trampoline Park
Here's my secret for finding super cheap socks to wear to Pure Barre. Go to a trampoline park!!! Indoor trampoline parks like Sky Zone in Atlanta, GA or Funcity in Barrington, RI require that everyone wear socks. The result? Super cheap socks!
I own a pair of sticky socks that I bought at Funcity for only $2.50 (yes – less than $3!) in pink and yellow.
I also found this pair of sticky socks on Amazon.
5. From Your Pure Barre Studio For Free – By Completing Challenges!
My favorite place to get Pure Barre socks? From my local studio – for free!! Pure Barre often has challenges for its members, which sometimes include free Pure Barre socks.
I have one pair for completing a summer fitness challenge, one pair for completing 100 classes, and another pair for completing 500 classes.
What's Your Favorite Pure Barre Outfit?
Do you have an outfit that you LOVE wearing during Pure Barre? I have a pair of leggings that I love, but I'm still in search of my favorite tank top and sports bra for Pure Barre.
I'd love to hear from you. Please leave a comment below, or send me a message on Facebook or on Instagram!
Good luck tucking!
Chrissy from The Jeans Fit (a girl passionate about Pure Barre, working out, and finding affordable workout clothes and athleisure apparel for women)