What Foods Have High Fructose Corn Syrup? 50 Foods with Hidden High Fructose Corn Syrup
This post may contain affiliate links.
Read my full disclosure
.
High fructose corn syrup (HFCS) is a hidden ingredient in many foods. If possible, try to avoid high fructose corn syrup.
Choose foods with natural sugar instead (like fruit!). If worse comes to worse, stick to regular sugar. High-fructose corn syrup is worse for you than pure cane sugar.
50 Foods with Hidden High Fructose Corn Syrup (in Alphabetical Order!)
Check out this list of foods, condiments, and snacks with high fructose corn syrup (HFCS). Some of the HFCS foods on this list will surprise you!
Applesauce
Baked Beans
Baking Mixes
Barbeque Sauce
Bread
Breakfast cereal
Candy (of course!)
Canned fruit
Canned tomatoes (especially tomato soup!)
Cereal
Cereal bars
Chicken nuggets
Chocolate milk
Coca-Cola
Cocktail sauce (Eat the shrimp, avoid the sauce!)
Coffee creamer
Cookies
Cottage cheese
Crackers
Cranberry sauce
Donuts
Dried fruit
English muffins
Frozen meals
Fruit Juice
Ham (lunch meat)
Hot dog and hamburger buns
Granola
Ice cream
Juice
Ketchup
Macaroni and cheese
Maple syrup (some brands)
Mayonnaise
McDonald's Hamburger
Muffins
Mustard (sweetened)
Nuts (cocktail nuts)
Oatmeal (any flavored kind)
Peanut butter (some brands)
Pickles (sweet pickles)
Protein bars
Protein powder
Relish
Salad dressing
Soup
Steak sauce
Strawberry jam
Turkey lunch meat
Yogurt
Be Careful of Hidden Sugars
If you want to reduce sugar, be on the lookout for any of these words on the back of food nutrition labels.
Alternative Names for "Sugar" on Nutrition Labels
Beet sugar, brown sugar, corn sweetener, corn syrup, dextrose, evaporated cane juice, fructose, fruit juice concentrates, galactose, glucose, grape sugar, high-fructose corn syrup, honey, invert corn syrup, invert sugar, lactose, malt, maltose, malt syrup, maple syrup, molasses, raw sugar, rice syrup, sucrose, sugar, syrup
Be on the Lookout for Fake Sugar Too
Be careful of foods that add fake sugar too. Many low-calorie, gluten-free, and high protein foods have fake sugars added!
Alternative Names for Fake Sugar
Acesulfame K, aspartame, equal, Erythritol, neotame, Newtame, Nutrasweet, saccharin, sucralose, Sweet 'N Low, Sweetleaf, Sweet Twin, Splenda, Stevia
Want a Cheat Sheet to Find Sugars?
Overwhelmed by all the information? Look on the back of a food's nutrition label. Look for everything listed under "Total Carbohydrate." Be on the lookout for "total added sugars" and "added sugars."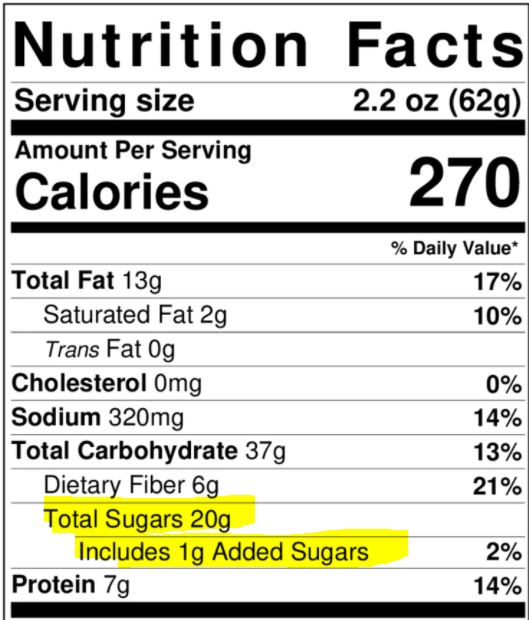 Reference to "sugar alcohols" is bad too. Those are fake sugars. Fake sugar may not have any calories in it, but it completely messes up food cravings in my opinion. Plus, fake sugar is so bad for you!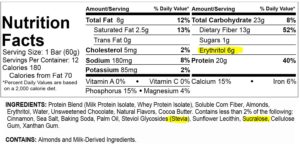 You can quickly identify fake sugars by looking for a fake sugar (listed above) under "Total Carbohydrates."
For example, the Orgain Organic Protein Powder advertises, "no sugar added," yet it has fake sugars in it. So misleading!!
Wishing you health!
Chrissy from The Jeans Fit